When Urban Decay came out with the Electric palette I found it very hard not to buy it immediately, it had such bright colours that I didn't have yet and would possibly hardly ever use but I needed it anyway!
For the ones that don't know what I'm talking about, here's a photo of the Electric Palette. Watch and drool.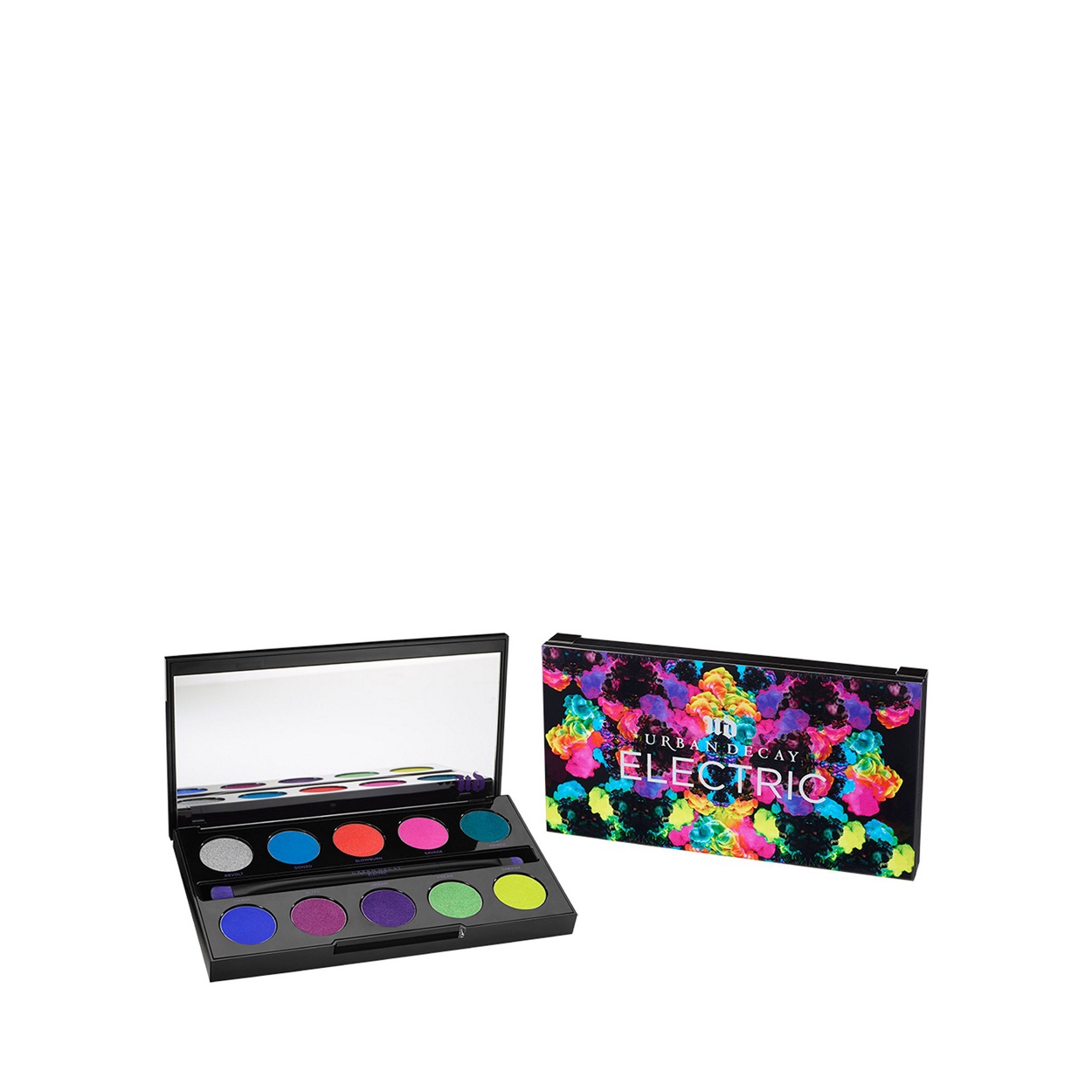 Luckily, having felt like this before after a product was hyped up to ridiculous levels *cough* all the Naked palettes *cough* and having been quite disappointed by the actual quality of the products - The Naked palette back in the day did in fact NOT solve all of my problems nor made me weep sweet angel tears of joy - I knew better than to give in to my desires and researched a bit. I've found out that although the palette has stunningly bright colours, I already had pretty good replacements for most of them. In fact, I only had to buy one or two colours seperately (a cobalt blue and a shimmery poisonous green) to be able to recreate most looks I saw people making with it!
This is good because this means that I've A: Won from my childish thoughts that tirelessly chanted 'SO PRETTY MUST HAVE, WANT WANT WANT' in my head for months, B: Saved myself quite a bit of money and C: Spared myself the regret for buying another high-end item that I didn't really have any use for.
To create this look I used a cobalt blue (Shiro Cosmetics's Evolve) all over the lid, a magenta colour in the crease (Too Faced's Totally Fetch), a dark purple (Sugarpill's Burning Heart palette) in the outer corners and the darkest parts of the crease, a super shiny silver (Illamasqua Cream Pigment in Surge) in the inner corners and a shimmery light green (Shiro's The Fourth Be With You) under the lower lashline.
I used my beloved Red Cherry Demi Whispy false lashes for an extra dramatic effect and made a winged line as well.
So yeah, I'm not saying that I won't eventually cave in and buy the damn thing anyway when I've scraped the cash together because although I have colours that are close to it I don't have anything exactly like it and bright colours appeal to me like shiny things to a magpie, but for now I'm super broke and happy playing with the eye pretties I already have thank you very much.
Product List:
Eyes:
Glycerine (as primer)
Illamasqua pigment in Surge (silver)
Shiro Cosmetics pigment in Evolve (blue)
Too Faced Pretty Rebel Palette (magenta)
Sugarpill Burning Heart palette (purple)
Shiro Cosmetics pigment The Fourth Be With You (green)
Black eyeliner (don't recall brand)
Catrice eyeliner pencil (blue)
Red Cherry False Lashes
NYX Frou Frou Mascara
Face:
Catrice concealer (lightest)
Benefit Fake Up concealer
Essence Stay Matt! powder
Illamasqua cream blush in Dixie
NARS Albatross highlighter
Lips:
NYX Istanbul