This is what I usually look like, do you think I could pull off this transformation?
Welcome to this new returning topic, the challenge article! I thought it would be kinda cool if you guys gave me a challenge every once in a while and I have to try and complete it. You get to decide if I have!
Anyway, this challenge was born out of a statement I've heard pretty much all of my adult life. Which is something along the lines of 'Oh Han, you couldn't look slutty/trashy/cheap even if you tried.' I guess the whole sexy seductive thing was never supposed to be my forte, with my round cheeks I often get more of an 'awwwwwww' reaction than anything else.
Still though, it's not like I've ever really tried either. So when someone on Instagram said the same thing I couldn't help but very maturely shout back "YES I CAN, CHALLENGE ACCEPTED!"
Upon which I then realised that I didn't actually know how people like that look like. I mean, you know, everyone has their preconceived notions but I didn't think it would be fair to do it like that. Instead, I had to think objectively about what being 'slutty' meant without the negative connotations to it.
My inner monologue was something like
"So I guess slutty means that you look like you have a lot of sex. Pornstars have a lot of sex. I'm going to see if I can look like a pornstar."
I got a little bit nervous then because my expectation was that people from that industry have to be extremely goodlooking, smoking hot vixens and I'm none of the above. So how could I fake that? Luckily I came across an article that showed famous pornstars before and after they had any make-up on.
Here's the whole thing if you're interested.
This gave me a few good ideas about what to do, let me show you an example.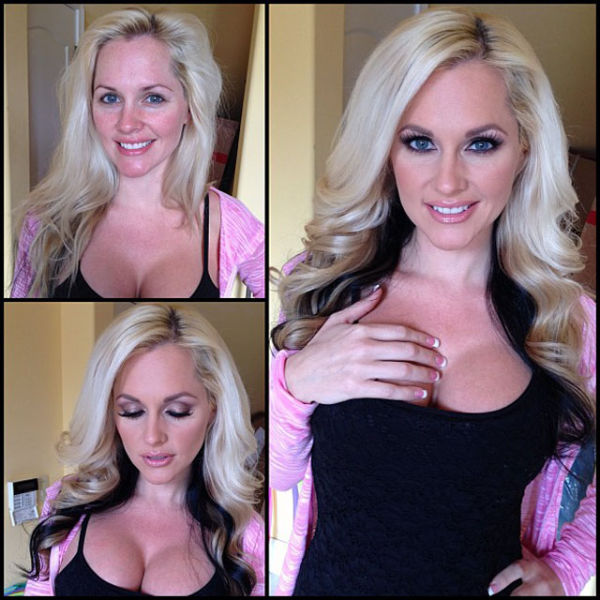 This is basically the way most girls in the industry are made up. Still very feminine and attractive, but quite over the top as well with glossy lips, lots of contouring and fake lashes, shimmery eyeshadow and lined eyes. What I had to do was just do a little bit too much of everything, but not so much that the overall result would be clownesque.
It also kind of reassured me that all of the girls in the before picture are still pretty, but definitely more normal than I expected them to be. It's a miracle what make-up can do, and it gave me hope for this challenge as well! Haha.
Are you curious about the end result? Remember, it's for you to decide if I completed the challenge succesfully!
I present to you my alter ego, Kitty Sunnylick
Doing this look was pretty difficult. I needed to throw all subtlety out of the window without making it look completely unattractive. The highlights had to be obvious, the dark eyeshadow a few shades darker than I'd usually do and the lipstick more than a few shades lighter (although I couldn't help but throw a gradient in there). False lashes were also absolutely necessary, as well as a lot more coverage, contouring and blusher. I also made my eyebrows a bit thinner to make me look a bit older and make the features of my face less soft. That's also the reason I lined my lower waterline, it doesn't matter that it looks harsh this time. Actually, harsh and too much was what I was going for!
And on that happy note, please leave a comment stating whether I completed this challenge succesfully! Also, feel free to think of a new one. Just start a sentence with "Han, I bet you can't...." and I'll see if I can prove you wrong!