The season for festivals is upon us! Now that the weather is finally getting to summer temperatures, many of us are itching to get going. Lots of you already have tickets! I don't usually go to festivals a lot, but when I do I always love the happy atmosphere and the way people look. It seems like everything goes. You won't look out of place with the strangest of contraptions in your hair or even elaborate markings on your face. Which is why people often go all out when they go to summer festivals, because we can! Do you know what your signature look is going to be this summer? If not, I've got some inspiration for you!
Nails:
Since you're going to be out a lot and probably camping in the outdoors, you are going to want to hide those mucky nails. Seriously, mud will get under there. So either cut them short or paint them a fancy colour! Here are some ideas:
These paper nails made my pressing alcohol stained paper to a white laquered nail look lovely! Also, since the pattern is so all over the place it makes chipping less evident.
Gosh, I love galaxy nails! I know they were more popular last year but I think they're such a lovely whimsical design. Especially on hot summer days and evenings.
Hair:
I don't know about you, but I like my hair relatively fuss free when I'm outdoors all day dancing and chilling. When it's warm, long hair can get especially hot and sweaty. So the best thing to do is to get it out of your face in a way that looks awesome as well as stays in place all day.
Flowers, flowers everywhere!
If there are any occasions to wear flowers in your hair, festivals are surely one of them! Fake or real, they give such a summer vibe to every look and just make the world that much more beautiful. Luckily, flowery headbands seem to be trendy this year and can be bought pretty much everywhere.
This Etsy seller creates the most amazing flower crowns! Definitely take a look if you like this sort of stuff, they're all so beautiful.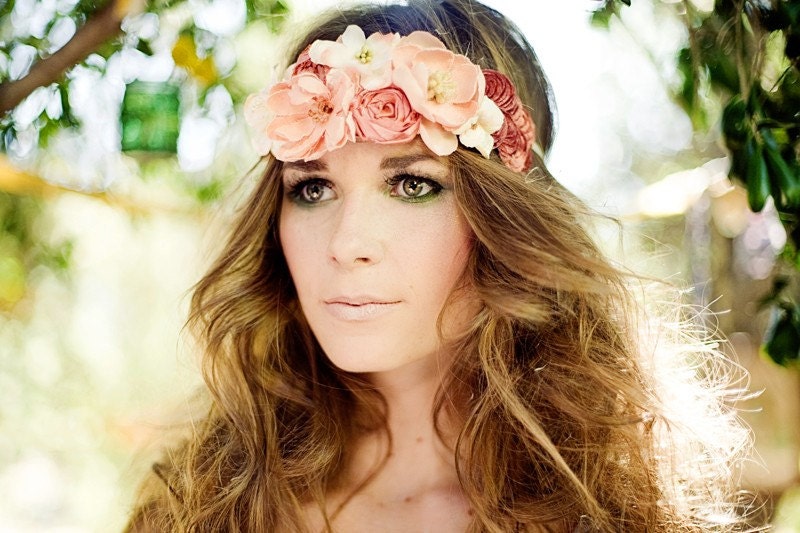 Makeup.
So whether you want to go all out with makeup or not, do keep in mind that you're going to be out in the sun all day. Sunblock is essential! It's also recommended to use products that are smudge, sweat - and even waterproof. Seriously, the last thing you want to do is check every five minutes if your eyeliner still looks okay. Also make sure to use a fixing spray that sets your makeup, just so it lasts a lot longer and you don't have to worry about it until you crawl back into your tent.
I think this whole look is fantastic, the blues of the eyes combined with the gold tones of the hair and the hair crown. Gosh, so beautiful. The extreme wing also looks flattering and edgy at the same time, together with the bronzed skin it looks absolutely gorgeous.
The Olsen twins are the queens of the effortless grungy festival look. This is great because it doesn't matter if it's not perfect or smudges a bit, it'll look like it's supposed to be like that!
I adore the tribal prints the girls above got going on here. They're simple, but very flattering.
I couldn't leave this out, such a beautiful and intricate design!
I have done this look on occasion, and it's always been very easy to wear. So fuss free and still such a vibrant and special look.
Be careful with rhinestones since they can make you look tacky very quicky, but I think Vanessa Hudgens looks extremely adorable with them. Especially compared with her smokey eyelook and the feathers in her hair.
Pin up looks are of course always fabulous, but somehow they seem to be so suitable for summer. I just love the way they look and every time I see a girl rock this it makes me want to take a picture. Utterly gorgeous.
I hope this gave you some ideas! I really want to get a flower crown now, even if I don't visit any festivals this year I'm sure I'll get some use out of it. I simply adore them.
Disclaimer: I always try to find the original source whenever I post inspiration from Pinterest. This is however, not always possible. Therefore if you see an image without a source it just means that I got it from Pinterest and couldn't trace it back to its origins.